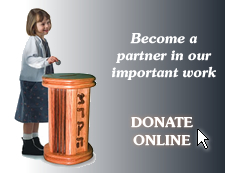 CLICK Here to DONATE
Chabad is committed to strengthening Jewish identity, unity and commitment. We cannot do this alone. We count on support from people like YOU, who are known for their benevolence, sincerity and sensitivity to the needs of all mankind.
Thank you for partnering with us!
Some Donation Opportunities
► Sponsor a Shabbat Kiddush.
► Dedicate a Prayer book or Chumash.
► Sponsor an event.
► Memorial board.



Chabad of Kirkland is a nonprofit organization. All grants and charitable contributions are tax-deductible.
IMPORTANT: This online donating system is intended to be used only to submit funds for charity, not for any goods or services offered by Chabad of Kirkland